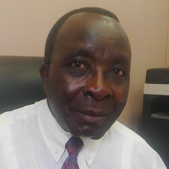 Name of staff:             Pierre Nekongo Sakwe
Department:               Agronomic and Applied Molecular Sciences
Faculty:                        Agriculture and Veterinary Medicine
E-mail:                          sakwenekongo@yahoo.com
Telephone:                  +237 679 45 94 10
GRADE:                        Associate Professor
BRIEF EDUCATIONAL BACKGROUND:
PhD Plant Nematology             University of Ghent, Belgium
MSc Plant Pathology                 Iowa State University, USA
BSc Microbiology                      University of Ife, Nigeria
RESEARCH INTEREST AREA:  
Identification  of plant-parasitic nematodes of field and vegetable crops, their socio-economic impact, and their control.–
MASTER DISSERTATIONS SUPERVISED : 9
4 most impactful
Nkemngong Carine Adjua. 2012. Occurrence of aflatoxins in groundnuts (Arachishypogaea L.) and maize (Zea mays L.) sold in some markets in the Buea municipality and the Ekona main market. 80 pp.
Missé Alain Christian. 2010. Inventaire des nématodes parasites du riz(Oryza sativa L.) dans les zones des forêts humides à pluviométriebimodaleet des hauts plateaux de l'Ouest du Cameroun, 51 pp.
Facourou Sinaba. 2008. Les nématodes parasites de l'arachide (Arachishypogaea L.) au Mali: influence sur le rendementet methodes de lutte. 78 pp.
Chewachong Godwill Mih. 2006. Serological detection of viruses in tuber sprouts of stored potato (Solanumtuberosum L.) seed tubers in the North West Province of Cameroon, 61 pp.
 PhD THESES SUPERVISED: None-
PUBLICATIONS:
Sakwe, P. N. and Hallmann, J. 2007. Identification of three Meloidogyne species from Cameroon by polymerase chain reaction (PCR). Cameroon Journal of Experimental Biology 3: 30-37.
2.Loubana, P. M., Sarah, J. L., Sakwe, P. N., Gnonhouri, P., Mavoungou, J. F., and Boisseau, M.  2007. Study of the genetic diversity of plant-parasitic nematodes on bananas and plantains in West  and Central Africa.  African Crop Science Conference Proceedings  8: 783-786.
3.Sakwe, P. N., Foko J., and Diafar, A. 1998. Field evaluation of cowpea breeding lines for resistance to the root-knot nematode Meloidogynejavanica. Sciences Agronomiques et Développement 1: 32-37.
4. Sakwe, P. N. and Geraert, E. 1994a. Species of the genus Pratylenchus Filip'jev, 1936 (Nematoda :Tylenchida) from Cameroon. Fundamental and Applied Nematology 17: 61- 173.
5. Sakwe, P. N. and Geraert, E. 1994b. The genera BasiriaSiddiqi, 1959, Neopsilenchus Thorne &Malek, 1968, Filenchus Andrassy, 1954 (Nematoda :Tylenchidae) from             Cameroon. Nematologica40 : 214-229.
6. Sakwe, P. N. and Geraert, E. 1993a. The genus DitylenchusFilip'ev, 1936 (Nematoda :Anguinidae) from Cameroon. Fundamental and Applied Nematology 16: 339-353.
7. Sakwe, P. N. and Geraert, E. 1993b. Criconematidae Taylor, 1936 (Nematoda) from Cameroon. Afro-Asian Journal of Nematology3 : 22-38.
8. Sakwe, P. N. and Coomans, A. 1993. The genera LongidorusMicoletzky, 1922 and Xiphinema Cobb, 1913 (Dorylaimida :Longidoridae) from Cameroon. Belgian Journal of Zoology. 123 : 203-230.
9. Sakwe, P. N. and Geraert, E. 1991. Some plant-parasitic nematodes from Cameroon, with a description of Criconemellapelerentsi n. sp. (Tylenchida: Criconematidae). Nematologica37 : 263-274.
Book Chapter
Parh, I. A., Sakwe, P. N. and Fontem, D. A. 1998. Pest and Disease Management in Tropical Crops. Distance Education Centre Course DE 010CP. University of Dschang. 268 pp. I contributed  the chapter on "Management of Plant-Parasitic Nematodes."
PERSONAL SUMMARY

Pierre N. Sakwe is an Associate Professor of Plant Nematology. He has worked extensively on the plant-parasitic nematodes of field and vegetable crops of Cameroon, focusing on the identification, taxonomy, socio-economic impact, and control of the nematodes. His interest in plant nematology has taken him, for short courses and fellowships, to France, Israel, Germany, and Canada.
Currently, he is leading a research team to study the plant-parasitic nematodes associated with yams (Dioscorea spp.) in the South West, Littoral, West, and North West Regions of Cameroon.