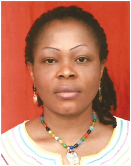 FACULTY:                  ARTS
DEPARTMENT:         LINGUISTICS
NAME OF STAFF :    ESTHER PHUBON CHIE epse ASONGANYI
Tel:                            (237) 677689495/96714967
GRADE:                    Lecturer
BRIEF EDUCATIONAL BACKGROUND:
I attended the University of Buea from 1996 to 1999 where I obtained a Bachelor of Arts Degree in Linguistics. I latter continued in the same university from 2000 to 2002 where I studied and obtained a Master of Arts Degree in Theoretical Linguistics. I moved to the University of Yaoundé I from 2005-2007 where I obtained a Diploma of Advanced Studies (DEA) and continued for a PhD degree in 2007 which was completed, defended and awarded in May 2014.
RESEARCH INTEREST AREA:
Theoretical Linguistics (Phonology/Tonology of Languages)
MASTER DISSERTATION SUPERVISED
None
PhD THESES SUPERVISED
None
PUBLICATIONS:
Phubon E.(2015) An Optimality Analysis of Nŋwɛ Syllable Structure. Current Issues in Linguistics, Language and Gender Studies: A Festschrift in honour of Prof. Cecilia AmogeEme, 1-17.
Phubon E. (2014) Kejom (Babanki) Syllable Structure. Epasa Moto: A Multidisciplinary Journal of Arts, Letters and the Humanities 1(2): 38-66.
Phubon E. (2014) The Phrasal Phonology of Babanki: An Outgrowth of Other Components of the Grammar of The Language. A Thesis submitted to the Faculty of Arts, Letters and Human Sciences of the University of Yaoundé 1 in partial fulfilment of the requirements for the award of a Diploma of Doctor of Philosophy (PhD) in Linguistics.
Akumbu P. W. and E. Phubon. (2010). Language in Contact: The case of the Fulbe dialect of Kejom. African Studies Monographs, 31(4): 173-187.
Esther Phubon Chie epse Asonganyi is a senior Lecturer of Linguistics and English Language in the University of Buea. She attended the University of Buea where she obtained a B.A and an M.A in Linguistics in 2000 and 2002 respectively. She equally holds a Diplome d'Etude Approfondies (DEA) and a PhD in Theoretical Linguistics obtained from the University of Yaoundé 1 in 2007 and 2014 respectively. She has been teaching in the University of Buea since 2002.
As a linguist specialized in Theoretical Linguistics, her main area of interest is in analyzing languages phonetically and phonologically. Considering the existing theories in Theoretical Linguistics (Autosegmental Phonology, Lexical Phonology, Optimality Theory and the most recent; Phrasal Phonology), her interest is to use these theories which have been tested on other languages of the world to see whether the results which seem to hold with other languages hold same for Cameroonian languages and if not, what are some of the different results that are derived.
Esther Phubon Chie epse Asonganyi has attended national and international conferences where she has acted as facilitator, presenter and reviewer. She is a member of Frontiers Research Group (FRG), University Group for English Language and Educational Research (UGELER) and Vespers Humanities Circles (VHC).